Company outline
Responding Customer Needs with Developing Special Alloy.
World Leading Manufacturer of Low Thermal Expansion Alloy.
Name
Shinhokoku Material Corp.
Location

Head quarter

5-13-1 Arajuku-machi, Kawagoe, Saitama, Japan,
Tel : +81-49-242-1950,

Fax : +81-49-245-8852

Mie plant

835-1 Takamatsu, Kawagoe-cho, Mie-gun, Mie, Japan
Tel : +81-59-363-2313,

Fax : +81-59-363-2312

Capital
JPY175.5 million
President & CEO
Tadashi Naruse
Employee
about 100
Use land
Head quarter : 8,130㎡、(Building : 3,295㎡)
Land for rent : 22,526㎡(For commercial use)
Mie plant : 14,047㎡、(Building : 4,116㎡)
Banks

Saitama Resona Bank, Limited, Kawagoe branch
Mitsui Sumitomo Bank, Ltd. Kawagoe branch
The Hyakugo Bank, Ltd. Kuwana branch
Musashino Bank, Ltd. Kawagoe branch

Stock market
Tokyo Stock Exchange, Standard Market
Business
Special steel development, Production and Sales.
Production items

Low thermal expansion alloy for semiconductor and FPD parts for manufacturing equipment.
Durable steel and heat resistance steel for steel works.
Precision polishing plate made by low thermal expansion alloy for various wafers.
Various alloys. (Rolling material, Drawing material, Welding rod.)
Piercing plug (Drilling tool) for seamless steel pipe.
Nonferrous alloy (Ti lapping, Sn alloy for lapping plate)

Directors

President & CEO

Tadashi Naruse

Director

Takayuki Kamada

Director

Yuji Yokoi

Unaffiliated Director and Audit committee chairman

Takafumi Hochi

Unaffiliated Director and Auditor

Masakatsu Sasamoto

Unaffiliated Director and Auditor

Takashi Marumo

Executive officers

Executive President

Tadashi Naruse

Executive Vice President, CTO

Masaaki Igarashi

Executive Officer and Sales Div. GM

Takayuki Kamada

Executive Officer and Mie plant GM

Yuji Yokoi

Executive Officer and Material Fabrication Div.GM

Kiyoshi Hasegawa

Executive Officer and Quality Assurance Div.GM

Hideyoshi Yamaguchi

Main customers

Nikon Corporation
Canon Inc.
Fujikoshi Machinery Corp.
ROHM Co., Ltd.
KEYENCE CORPORATION
Advantest Corporation
TOKYO SEIMITSU CO., LTD.
JAXA (Japan Aerospace Exploration Agency)

Nippon steel Corporation
JFE Steel Corporation
Sanyo Special Steel Co., Ltd.
Paramount Glass Mfg. Co., Ltd.
Nippon Paper Industries Co., Ltd.
SHIBAURA MACHINE CO., LTD.
IHI Aerospace Co., Ltd.
Head quarter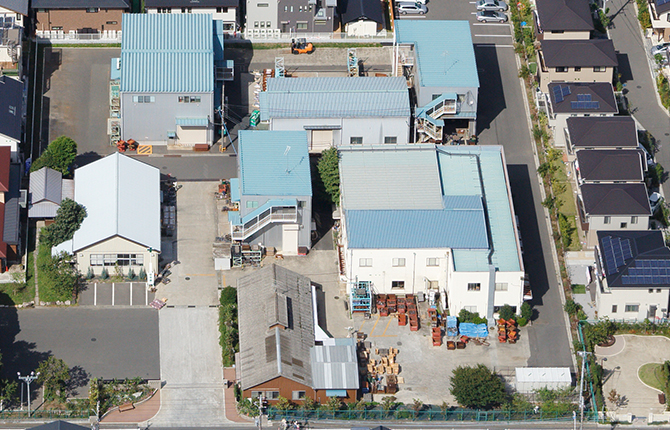 R&D, Material Fabrication Divisions and Sales Div. are located in our headquarters, Kawagoe, Saitama-ken.
Development of original alloy is focused on our R&D and utilizing metallography knowledge, investigation , examination and analysis is being made. Not only advices from our R'&D to our technical and manufacturing section but also our R&D visit our customer and make necessary recommendation of suitable alloy to our customer.
Cultivated metal technology and domestic and overseas network through collaboration with our R&D, regardless of ferrous or nonferrous most of metal can be handled such as machining products with small lot, special rolled steel, titanium alloy rod, Tin plate for lapping MR head and/or cupper plate for lapping of sapphire.
5-13-1 Arajuku-machi, Kawagoe, Saitama, Japan
Tel : +81-49-242-1950,
Fax: +81-49-245-8852
Mie plant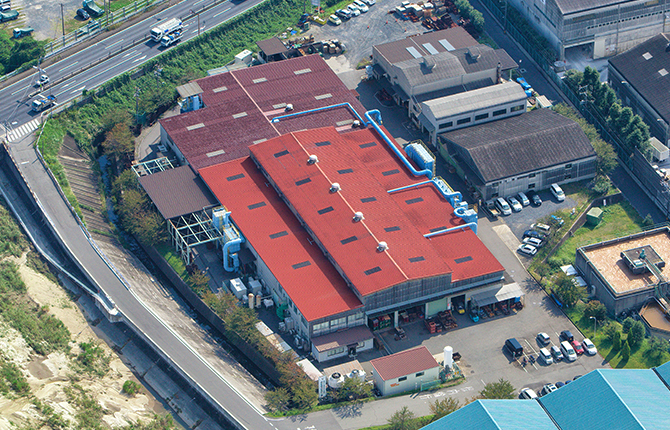 Developed alloy by R&D is manufactured to a high quality cast steel or ingot utilizing accumulated manufacturing technology and experience in long time.
We have 3t, 2t, 1t, and 0.7t high frequency furnace and 5t cast steel can be made as our maximum melt with two furnaces. 100kgs furnace is for testing and development purpose and various test can be made in very close to actual production and it is contributing to not only conventional material but also new development and up grading of quality and functions.
Mie plant : 835-1 Takamatsu, Kawagoe-cho, Mie-gun, Mie, Japan
Tel : +81-59-363-2313,
Fax : +81-59-363-2312